TERRORISTS ATTACK WASHINGTON D.C.! Oh wait....
It seems that WE THE PEOPLE have spoken again! It also seems that WE THE PEOPLE will need to do more and more of what members of The Greatest Generation did today in Washington D.C. In spite of the Government Shutdown barriers that blocked this Honor Flight group that was visiting D.C., the group of WWII vets simply removed the barriers and visited the national site on their own.
Did they break the law? Probably. Was it justified? We think so. After all, the lawless ones in the White House and Congress continually throw the Constitution in the wastebasket and impose their lawless mandates upon us. But, wait...isn't that the stuff of which the American Revolution was born? Yup - sure was!
A miniature American Revolution took place today - in D.C.! By America's Greatest Generation - once again leading the way! You know what the shame of it is? Under Obama - these WWII vets could be classified as TERRORISTS who committed an act of TERRORISM. I suppose if they all had on Turbans and shouted ALAHU AKBAR! They would have received government assistance, taxpayer dollars, and F-16 fighter jets.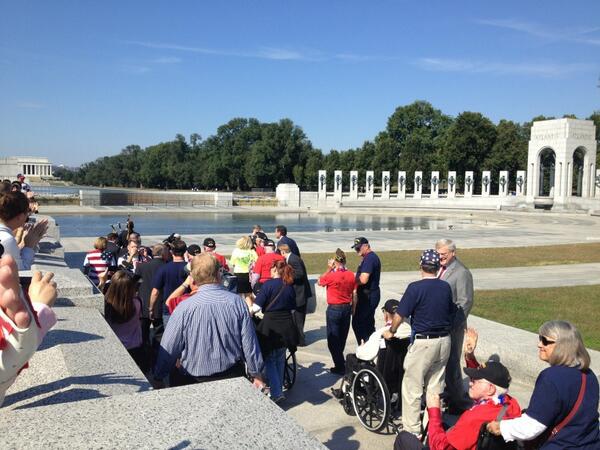 Read a full report on the event here:
http://freebeacon.com/wwii-vets-knock-over-shutdown-barrier-to-visit-wwii-memorial/
UPDATE! looks like Michelle Bachmann led the charge in the effort. See the video below!